Rio de Janeiro's Christ the Redeemer statue got a new look on Thursday night.
Megastar Taylor Swift was honored with a projection to kick off her Eras Tour stop in Brazil. Christ the Redeemer was wearing a "Welcome to Brasil" shirt inspired by Taylor Swift's "Junior Jewels" shirt from her "You Belong With Me" music video.
Brazil's move to honor Swift came after a fan campaign that asked Omar Raposo, rector of the sanctuary of Christ the Redeemer, to project a T-shirt on the statue upon her arrival in Brazil, according to a press release. 
According to the release, Raposo agreed only if Swift fans donated "more than 20,000 units of panettone and mineral water by 9pm this Thursday, November 16, to help people in situations of vulnerability and social exclusion."
TAYLOR SWIFT POSTPONES ARGENTINA CONCERT AFTER TRAVIS KELCE ARRIVES
"The initiative is from the Christ the Redeemer Sanctuary and aims to raise awareness and mobilize society against poverty and social exclusion, in commemoration of the World Day of the Poor, established by the Holy Father, Pope Francis, which will be celebrated on November 19th," the press release continued.
The Sanctuary noted that they would "bear all the costs of the projection and will continue with its mission of welcoming everyone with open arms."
The official Instagram account for the Christ the Redeemer statue shared a video of the new look.
"We did it Swifties !! Y'all could show Taylor and next all the love! Many thanks to all who donated! Make it a wonderful day!" the caption translated from Spanish to English reads. Swift's hit "You Belong With Me" is also heard playing in the background of the video post.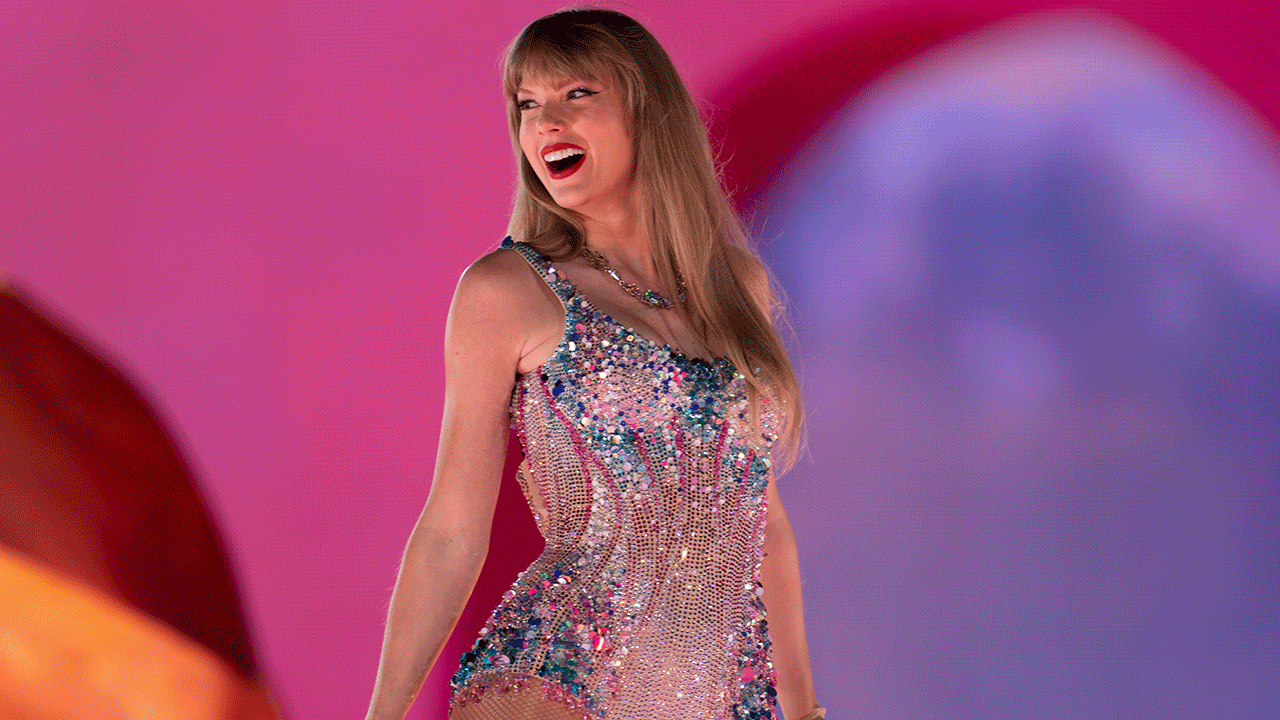 According to USA Today, 21-year-old publicist Leonardo Ulths De Carvalho created the original photoshopped image while Gabriel Dadam made the projection. Dadam is an art director of one of Swift's fan clubs.
The mayor of Rio de Janeiro, Eduardo Paes, took to X, formerly known as Twitter, on Thursday to confirm that Swift would be honored.
"Swifties cariocas… are you ready for it?" Paes wrote on X.
Taylor is set to perform her Brazil Eras Tour shows on Friday, Saturday and Sunday night in Rio de Janiero.
LIKE WHAT YOU'RE READING? CLICK HERE FOR MORE ENTERTAINMENT NEWS
Swift has been dominating headlines for the past several months, but this past weekend, her romance with NFL star Travis Kelce of the Kansas City Chiefs was brought back to center stage.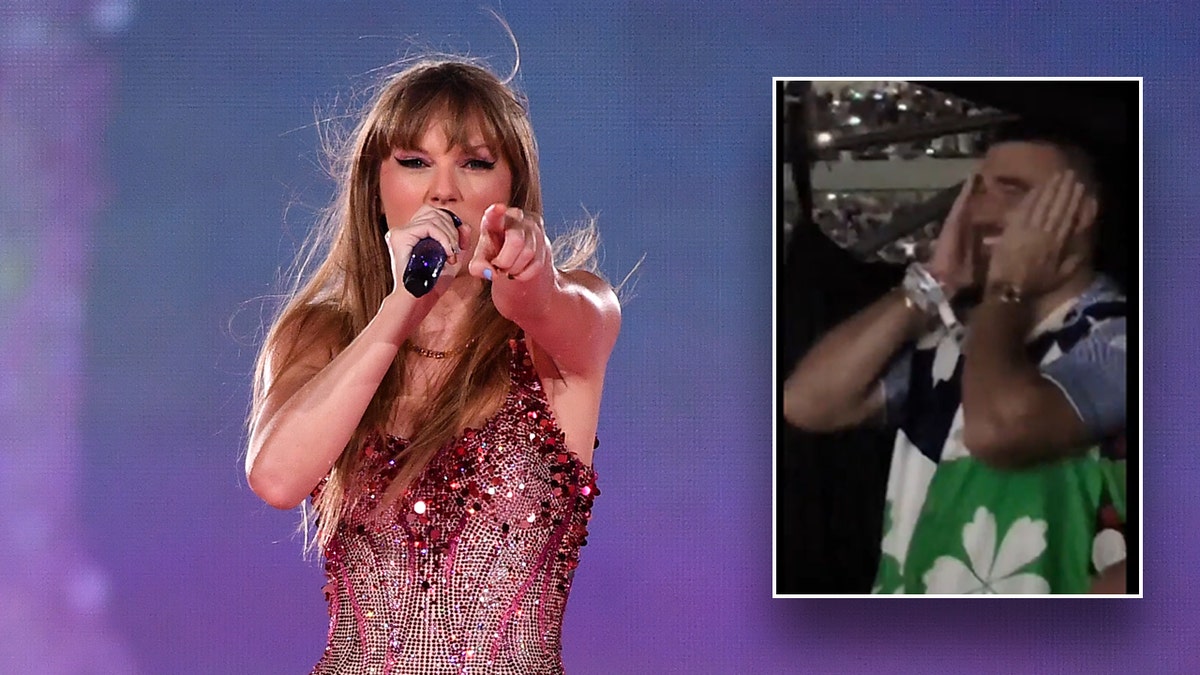 On Saturday night, Kelce attended the "All Too Well" singer's Buenos Aires, Argentina, show with her father, Scott Swift, in a VIP tent. 
CLICK HERE TO SIGN UP FOR THE ENTERTAINMENT NEWSLETTER
At the end of her concert, Swift referenced Kelce as she changed the lyrics of her song "Karma," singing, "Karma is the guy on the *Chiefs* coming straight home to me."
The concert was originally scheduled for Friday, but Swift announced on Instagram that the show had been postponed a day due to "truly chaotic" weather.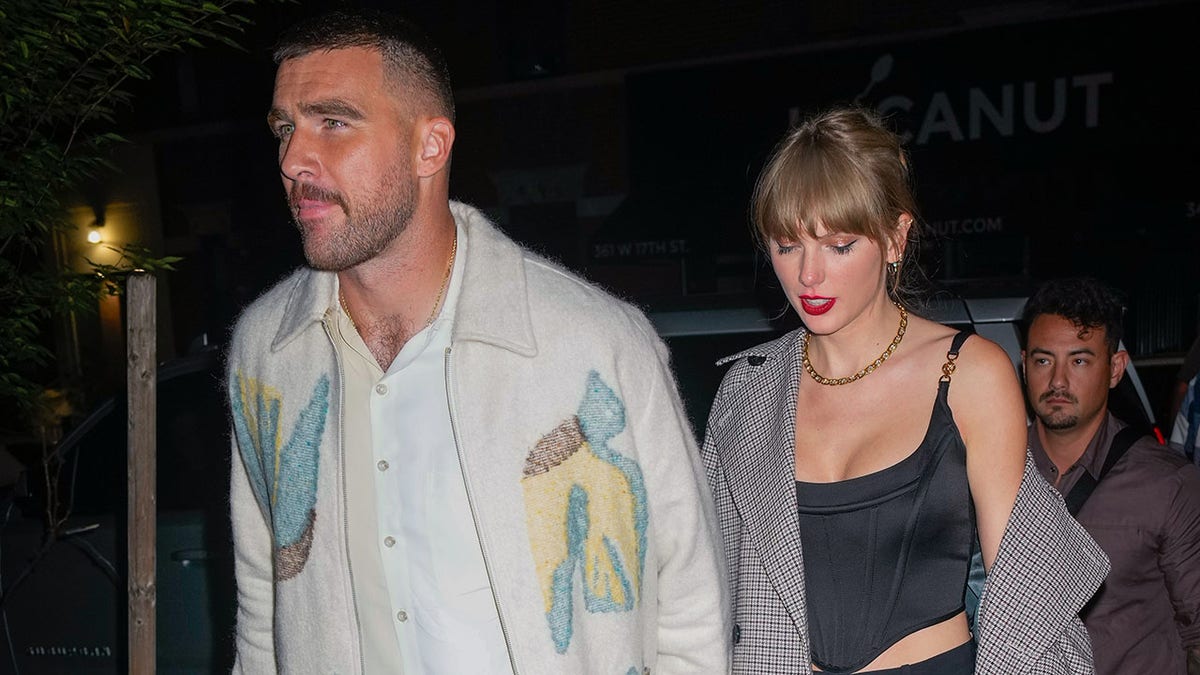 At the end of the show, the 33-year-old pop star was seen waving to fans before running over to the 34-year-old Chiefs tight end and planting a kiss on him in photos and videos shared by fans on social media.
Kelce and Swift first sparked dating rumors when she attended his Sept. 24 home game against the Chicago Bears.
CLICK HERE TO GET THE FOX NEWS APP
Since attending her first Chiefs game in September, Swift has cheered Kelce on alongside his family, including mother Donna Kelce, and friends at three of his other games. The two have also been spotted on dinner dates in New York City.