Mariska Hargitay's special love
Mariska Hargitay and husband Peter Hermann walked the red carpet together at the Good+Foundation's A Very Good+ Night of Comedy 2023 benefit gala. The two met in 2001, when Hermann was a guest star on an episode of "Law & Order: Special Victims Unit," and got married in 2004.
"I think we both knew, sort of, what we found," Hargitay told People in 2019. "We sort of knew that we found the right one. I never thought it could be this good, and I never knew that I'd be reminded on the journey, that I'd marry the right one. That I waited and married the right one, and it's better than I thought it was. Because sometimes you take a snapshot, and you go, 'I can't believe this is my life.'"
Since tying the knot, Hargitay and Hermann have welcomed three children — August, born in 2006, and Amaya and Andrew, who were both adopted in 2011. 
MARISKA HARGITAY OPENS UP ABOUT LOSING HER MOM JAYNE MANSFIELD AS A CHILD: 'THERE'S NO GUARANTEES'
Taylor Swift and Travis Kelce step out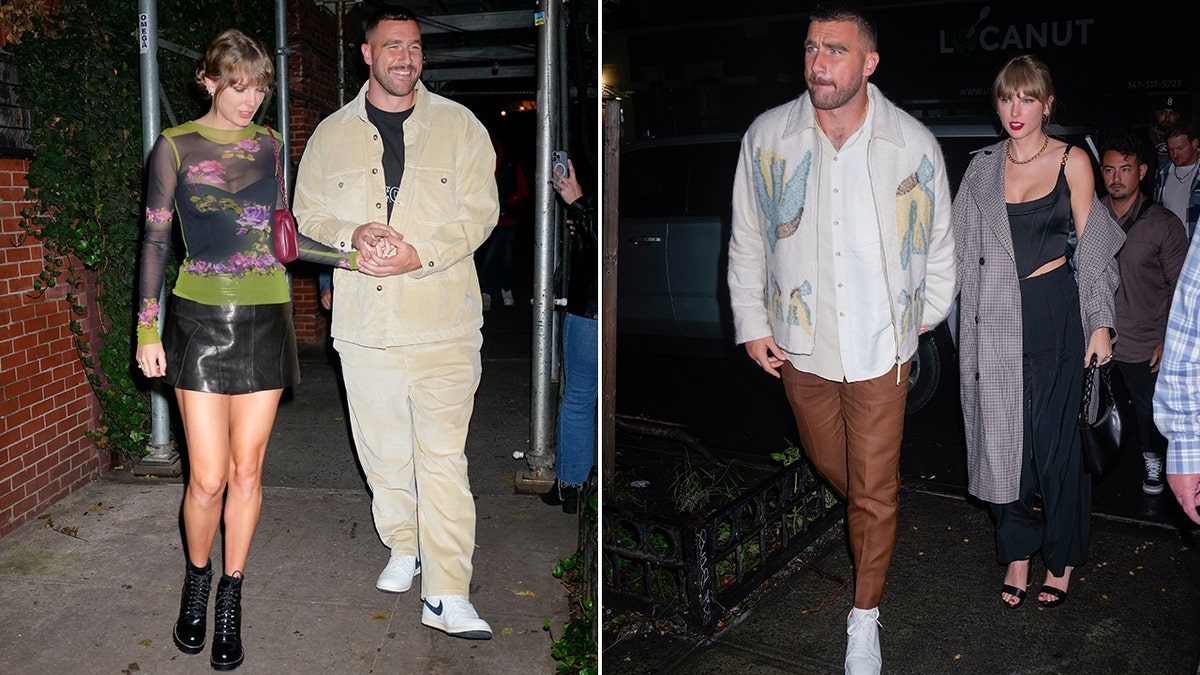 The internet's favorite couple, Taylor Swift and Travis Kelce, were photographed together two separate times this week in New York City. The two first sparked dating rumors when Swift was spotted at multiple Kansas City Chiefs games, cheering for Kelce alongside his mother.
Earlier this week, they were seen leaving a "Saturday Night Live" after-party early Sunday morning. The two were then seen going out to dinner later that day, photographed outside Waverly Inn.
Kelce previously revealed on his podcast, "New Heights with Jason and Travis Kelce," he initially tried to ask her out when he attended her concert in Kansas City on July.
"I was disappointed that she doesn't talk before or after her shows because she has to save her voice for the 44 songs that she sings," he said. "If you're up on Taylor Swift concerts, there are friendship bracelets, and I received a bunch of them being there, but I wanted to give Taylor Swift one with my number on it."
From Gwen and Blake's green thumb to a shining star
Blake Shelton and Gwen Stefani continue to enjoy their life in Oklahoma, sharing a video of the two of them working together to make fall decorations for their home. In the video, posted by Stefani, she and Shelton are seen gathering pumpkins, wheat and flowers.
"We love Fall over here !!," Stefani captioned the video, adding emoji such as a brown heart, corn and a leaf. In the video, Shelton challenges, "The Voice" coaches Niall Horan, John Legend and Reba McEntire to "come out here and do some country stuff." 
GWEN STEFANI AND BLAKE SHELTON'S 'BEAUTIFUL' LIFE IN OKLAHOMA: 'NOW I GET IT'
After finishing their decorations, Stefani and Shelton shared a kiss.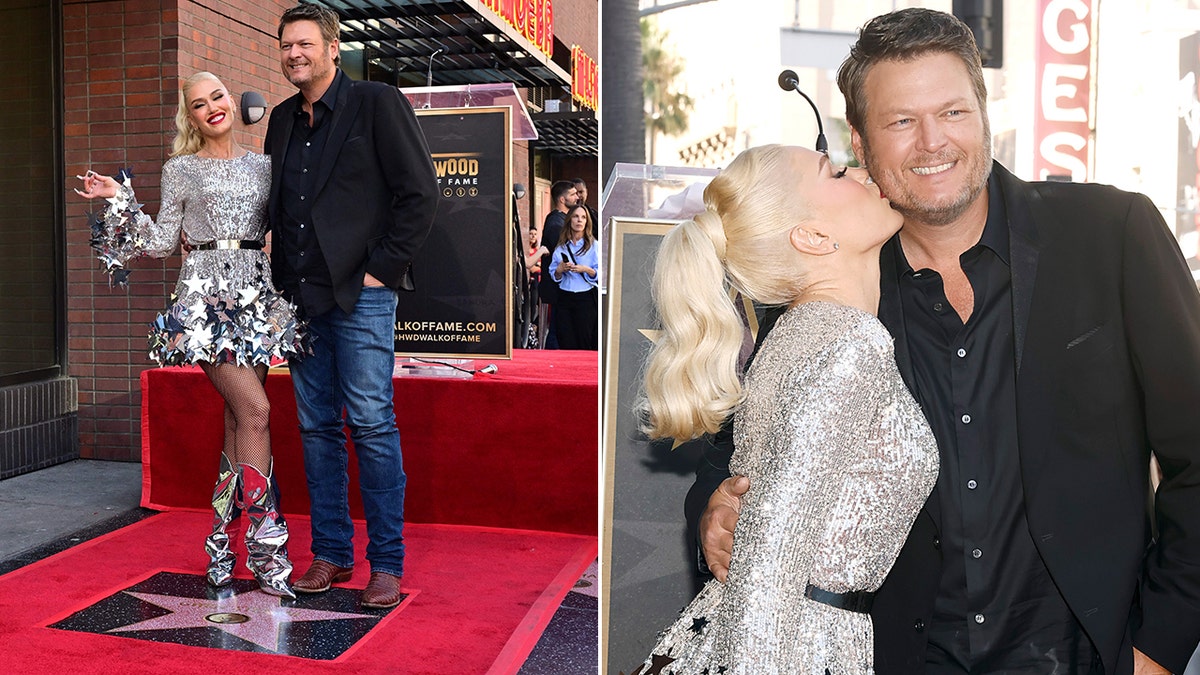 Later in the week, Shelton stood by Stefani's side as she accepted a star on the Hollywood Walk of Fame. During her speech, Stefani recalled meeting him for the first time and falling in love with Shelton, saying, "I knew I was home."
The country music star also spoke at the ceremony, showering his wife with compliments about her as a mother and as an artist, calling her "the perfect person to receive a star on the Walk of Fame."
"The first time that I ever met Gwen was in 2014. She wasn't like any other famous person that I had ever met before. She drove herself to work in a black minivan with car seats in it. She didn't roll in with security," he recalled. "She came in with a baby and two little boys, which, at the time, worked like security, because nobody was going near [them]. It was chaos.
"It was clear to me that she was a mother, first and foremost, over anything else in the world," he added. "That was her No. 1 job. And now standing here, almost 10 years later, after I first met her, I can still say that without question, that being a mother is still the most important thing in her life. … But, today, it's nice to see her honored for her side project, which is being one of the biggest stars in the world."
Kaia Gerber and Austin Butler's casual stroll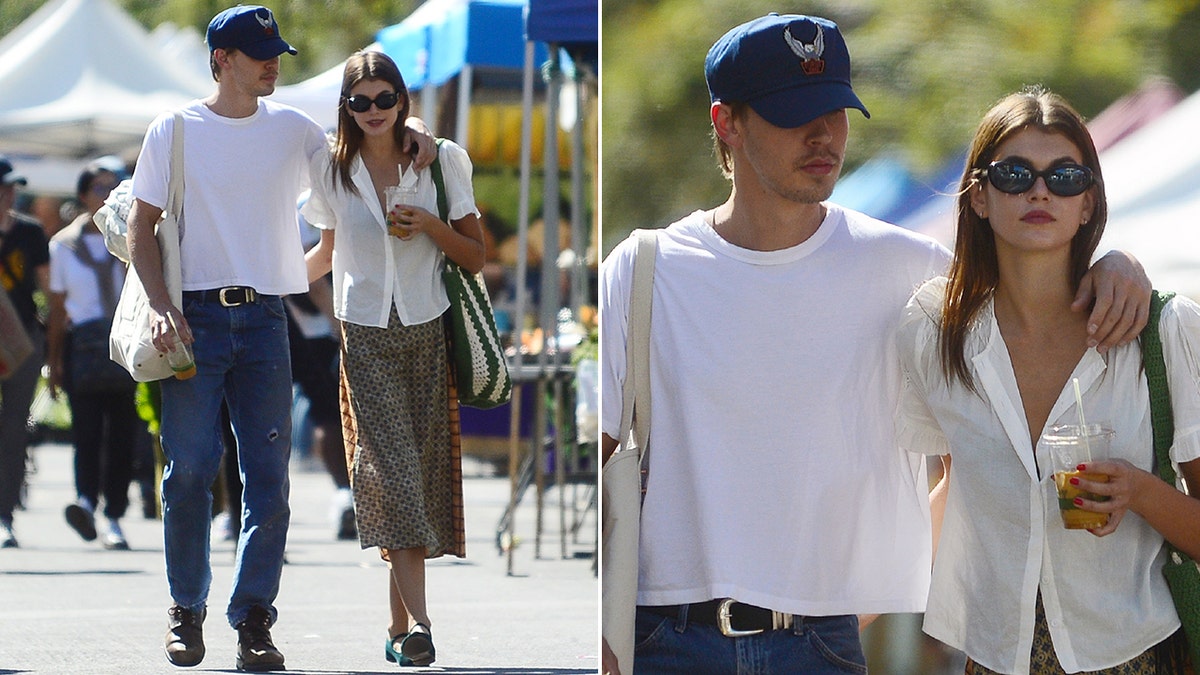 Kaia Gerber and Austin Butler were seen walking through a farmers market Sunday with their arms around each other. Butler was wearing blue jeans, a white top and a blue baseball cap and was carrying a white tote bag. Gerber was wearing a white shirt, a patterned skirt and sunglasses, paired with a green and white striped tote.
After months of speculation, their romance was confirmed in early 2022, and they made their red carpet debut in May 2022 at the Met Gala, later walking the carpet at the Cannes Film Festival together for the premiere of "Elvis" and sharing a kiss. 
CINDY CRAWFORD'S DAUGHTER KAIA GERBER WEIGHS IN ON 'NEPO BABY' DEBATE: 'WON'T DENY THE PRIVILEGE THAT I HAVE'
The two have been private about their relationship, refraining from posting about each other on social media or speaking about each other publicly. When asked to speak about Gerber during an interview with GQ in May 2022, Butler responded by saying, "I don't think there's anything I want to share about that. But thank you for providing the space."
Miranda Lambert celebrates her husband
"Happy Birthday to the best husband. @brendanjmcloughlin I love you. You're the one that I want," Miranda Lambert captioned a recent Instagram post, celebrating her husband's birthday. 
The post featured both photos and videos of her husband Brendan McLoughlin having fun in the sun, being silly or showing off his sporty side. The final video in the post shows her and McLoughlin singing and dancing to "You're The One That I Want" from "Grease." 
"I want to be open about how happy we are," Lambert told People in June 2022. "I just don't give two s—s about people's opinion of me, my marriage, my music or anything else. I just care that I'm being me. He jumped right into this lifestyle — there's a learning curve taking a New Yorker straight to the woods — but it was a big laugh.
"It's nice to have a partner in that, someone by your side that supports you, loves you and believes in you. He loves me for me. It's a really cool thing to have in my life, at this point in my life."
Christina Aguilera has 'What A Girl Wants'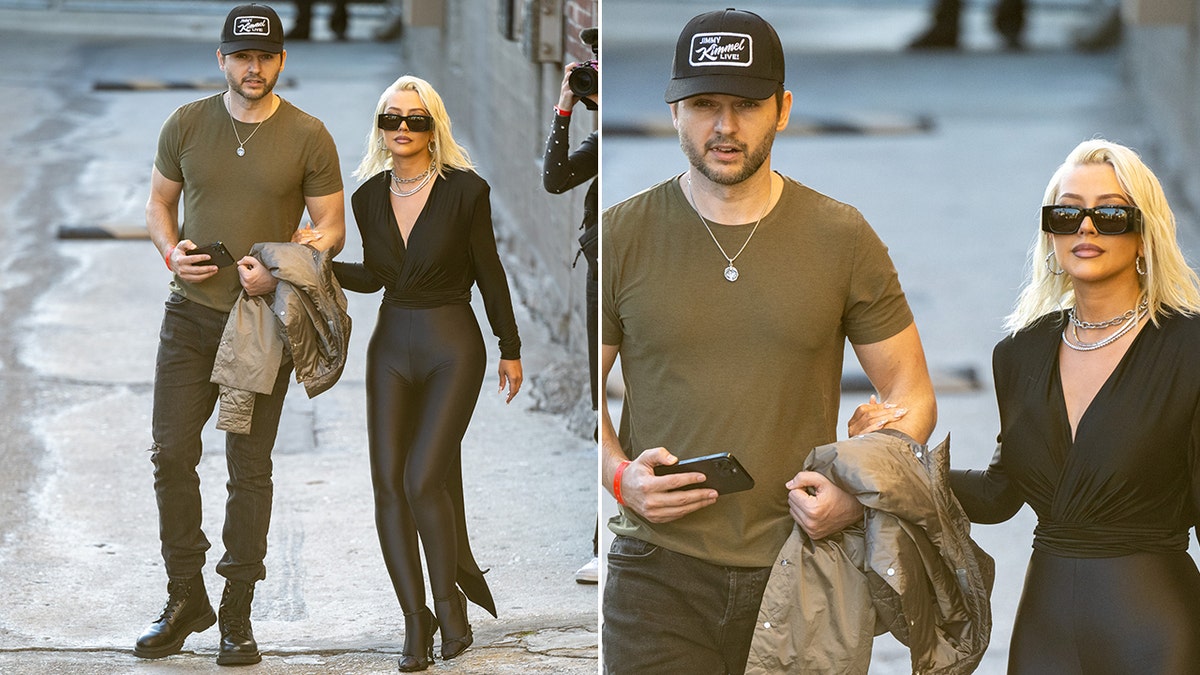 Christina Aguilera and fiancé Matthew Rutler were spotted leaving "Jimmy Kimmel Live," following the musician's appearance as a guest on the show. The "Genie In A Bottle" singer channeled her inner Sandy Olsen, wearing an all-black outfit, with skin-tight pants, while Rutler wore a green shirt, jeans and a black baseball cap.
The two met in 2010 on the set of her hit movie, "Burlesque," where he was working as an on-set assistant. They got engaged in 2014 and welcomed their daughter Summer later that year. When asked in 2015 why they haven't gotten married yet, she told E! News, they are "secure" in their relationship and "[they] don't need a wedding to prove [their] commitment."
"You continuously impress me with how devoted, driven and hardworking you are, while being a devoted, loving and thoughtful parent & partner. You always strive to be better and never settle for anything but. From being an amazing father to an incredible business man and forward thinker, you innovate and execute ideas on the daily," she wrote on Instagram in June 2021.
LIKE WHAT YOU'RE READING? CLICK HERE FOR MORE ENTERTAINMENT NEWS
"From helping keep the family glue together to building the successes you do," she continued. "I'm proud of you and will always be in your corner … cheering you on to keep shining and succeeding in all your wildest dreams. Love you baby." 
Sarah Hyland's double date
"Modern Family" star Jessie Tyler Ferguson posted photos of a double date he and his husband, Justin Mikita, had with his former co-star, Sarah Hyland and her husband Wells Adams. 
The former co-stars have remained close after filming wrapped on the final season of "Modern Family" in February 2020. So close, in fact, that Ferguson was the officiant at Hyland and Adams' wedding in August 2022. A few months later, Hyland wished Ferguson a happy birthday on Instagram, calling him "the best officiant of all time," saying it was "a dream and a privilege" to be married by him.
CLICK HERE TO SIGN UP FOR THE ENTERTAINMENT NEWSLETTER
Hyland and Wells planned to tie the knot in August 2020 but postponed due to the pandemic and have now been married a little over a year. Ferguson and Mikita celebrated their 10-year anniversary this year after getting married in July 2013. They have two kids together, Beckett and Sullivan.
Marc Anthony's big night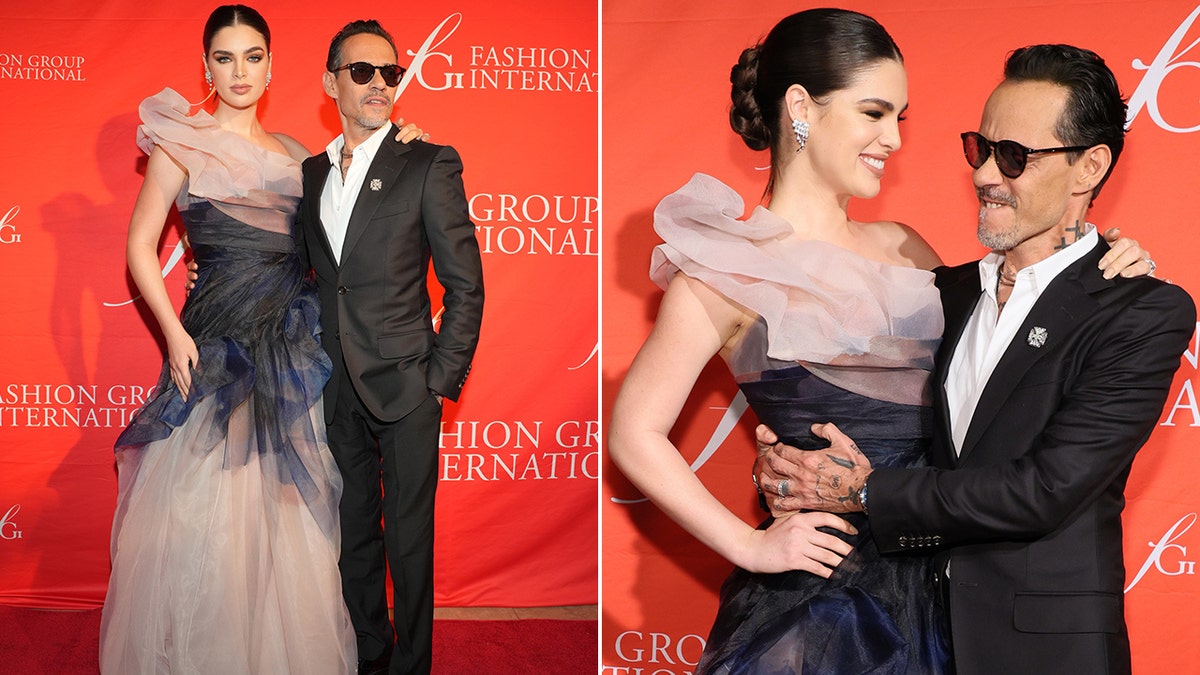 Marc Anthony and his wife Nadia Ferreira cuddled while posing for photos on the red carpet at the FGI Night of Stars Gala, where Anthony was honored for his humanitarian work. The singer-songwriter wore a black suit, while Ferreira wore a pink and blue gown.
The couple went public with their relationship in March 2022, announcing their engagement just a few months later. They got married in January 2023 in Miami and welcomed their first child together, his seventh, in June 2023. 
CLICK HERE TO GET THE FOX NEWS APP
"A wonderful night celebrating fashion, philanthropy and you @marcanthony #humaniratianaward proud of you mi amor," Ferreira wrote on an Instagram post featuring photos from the red carpet.