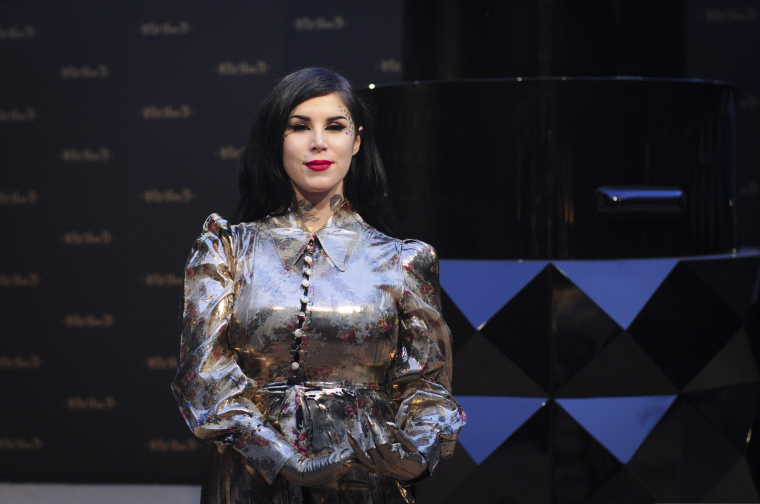 Recently baptized celebrity tattoo artist Kat Von D is praising the "overwhelmingly beautiful" responses she has received to the milestone she recently celebrated while expressing disappointment that "egoic" Christians continue to "judge a book by its cover." 
In a video posted to Instagram Sunday, tattoo artist Katherine von Drachenberg (better known as Kat Von D) discussed the responses she had received after posting a video of her baptism earlier this month.
"It was an overwhelmingly beautiful amount of just positivity and just love," she said. "Me and my husband and my son, we'd go out to go get lunch throughout the week, and people would just come out of nowhere just wanting to give me a hug and congratulate me and welcome me to the family." 
"It's been pretty awesome," she added.
The celebrity, who is known for her time on the TLC reality show "LA Ink," said she was "shocked" because she was "expecting to get so much hate for it."
"I know that a majority of my fans and my followers are not Christian, and so, like, I know that it's a turn-off to a lot of people," Drachenberg said. 
Drachenberg, a 41-year-old whose parents were Seventh-day Adventist missionaries,  described her baptism as "a public demonstration of where I stand with my faith" and "one of the most important days of my life."
However, "there was this other side of the response that was just so awful," she explained. 
"It wasn't my atheist friends. …  You would think that all the hate would be coming from people who are … against religion or against Christianity and stuff," she said.
Aside from the "typical like dumb, mean like emoji comments" from atheists, "it was really the Christians who were the worst."
"It was just really like sad to see like this critical display of judgment from … Christians," she said. 
"I don't understand what would inspire that aside from … something that's more egoic because that isn't Christlike … to judge people or judge people's journey," Drachenberg asserted.
She expected that "most Christians would be like happy for you when you … come to this point in your life, especially when you get baptized." 
Drachenberg lamented the fact that a "handful" of "critical Christians" criticized her "in such a public way."
"One of the comments that I would see repeatedly would be like people saying that I was faking it," she said.
The tattoo artist pushed back on the claim that she was pretending to embrace Christianity as part of a public relations "stunt to get like clicks and follows … or views" on social media.
"My Instagram is not monetized so I don't get paid for how many views I get," she said. 
"There was like a lot of criticisms, weirdly enough, about like the way that I dress, the way that I look or the way that my friends looked in the video, and I think it's really insane that we live in a time where people still like judge a book by its cover. Like, I feel like, I wasn't aware that there's … a uniform that you're supposed to wear once you give your heart to Jesus." 
Drachenberg acknowledged that "a very stereotypical aesthetic" is associated with Christianity, insisting that "that is not me."
She described the idea that she was not an authentic Christian because she wears black, styles her hair a certain way, and has tattoos as "the silliest thing you could say." She rejected the idea that "I'm not a real Christian unless I delete everything I've ever posted." 
"I didn't get baptized to be saved. I was already saved. And I didn't get baptized … to make it about me. It was never about me," she stressed.
The artist assured her critics that she loves them "no matter what."
She praised her church, Switzerland Baptist Church in Vivay, Indiana, for providing her with a "feeling of family" that she has "never really felt." 
She indicated an openness to sharing her testimony with podcaster Allie Beth Stuckey in the future. At the same time, she predicted that "you probably really won't hear me talking too much about this stuff," adding, "I just like don't really feel equipped to be the poster child for … Christianity." 
"I think that I'm still learning, and as I do, I will become more equipped. But for the time being, I feel like … I've never really been that and I don't plan on doing that," she stressed.
Drachenberg's embrace of Christianity comes a year after she renounced the occult and witchcraft in search of "love and light."
Free

Religious Freedom Updates

Join thousands of others to get the FREEDOM POST newsletter for free, sent twice a week from The Christian Post.