'Flamy Grant' compares himself with prophets Ezekiel, Isaiah: 'I identify with the obscene ones'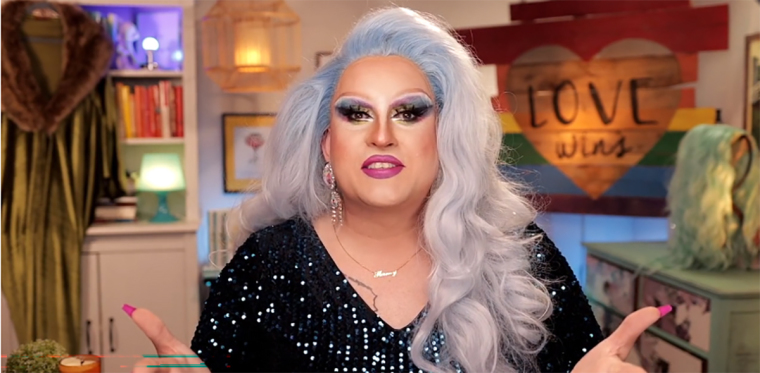 A former church worship singer who became the first drag performer to top the Christian music charts on iTunes says he blames corruption and "religious gatekeeping" in the industry after his song submission was deemed ineligible for the Christian category over its use of explicit language.
Matthew Blake, who wears a wig, heavy makeup and women's clothing when he performs under the stage name Flamy Grant, submitted his album Bible Belt Baby for consideration at this year's Grammy Awards after the album hit the top spot on the iTunes Christian and Gospel chart along with the album's lead single, "Good Day" this summer.
After the 41-year-old Blake made the submission, the Recording Academy, which determines eligibility for the Grammys, moved the submission from the Best Contemporary Christian Album category to Best Pop Vocal Album, according to reports.
The move was likely fueled by Grant's use of explicit language in the song "Esther, Ruth, and Rahab," which includes the lines: 
"In the church where I was raised, all the women hid their hair/ With what can only be called doilies made of lace/ They sat beside their husbands and they never spoke a word/ 'Cause public prayer was not a woman's place/ But literally any man was welcome to stand up/ And for an hour we would listen to them talk/ So I guess the lesson there was God would only hear a prayer If it came from a person with a c—."
While Bible Belt Baby was only at the submission stage, the official Grammys policy states the screening process was established to "ensure that entered recordings meet specific qualifications and have been placed in appropriate Fields," such as jazz, pop, reggae, etc.
"The purpose of screenings is not to make artistic or technical judgments about the recordings, but rather to make sure that each entry is eligible and placed in its proper category," according to the Grammys website.
In an Oct. 31 Facebook post, Blake said that while he acknowledges his "expression of Christianity ruffles feathers," the album was created to reflect a "Christian story, faith, and worldview."
Comparing himself to biblical prophets like Hosea, Ezekiel and Isaiah, who, as he put it, "spent three years naked to grab the attention of an unjust society," Grant said, "I identify with the obscene ones."
He also appeared to tout the faith of LGBT-identified "queer Christians," calling them "among the most faithful because of the cruelty we must navigate."
"If a queer person still identifies as a believer in 2023, that's a faith no straight person can begin to understand," he added, echoing similar statements made by North Point megachurch Pastor Andy Stanley in a sermon earlier this year.
Blaming what he described as "religious gatekeeping" by the Academy and screening committee, Grant said, "The typically progressive Grammys seemed like my best shot at seeing my art represented in the world of Christian music."
He was also defiant about his choice of language in the song "Esther, Ruth, and Rahab" and said using expletives was his way of describing "Christian culture."
"I intentionally chose words like c— and f— when writing 'Esther, Ruth, and Rahab' because it is an indictment of Christian culture that elevates men while diminishing women and queer folks (not to mention people of color, folks with disabilities, and other marginalized groups)," he wrote. 
The Christian Post reached out to the Recording Academy for comment Thursday. This story will be updated if a response is received.
In a September 2022 interview, Blake acknowledged his drag name was inspired by "arguably the most successful Christian artist of all time," CCM legend Amy Grant.
He also revealed his upbringing in a home in which he was "only allowed to listen to Christian" music.
"In my house growing up, we were only allowed to listen to Christian and gospel music, so as a closeted queer kid Amy Grant was my version of an inspirational diva," he was quoted as saying.
In March, the self-described "gospel & roots musician from the Bible Belt" starred in a one-man drag show called Godless Sheathen: A Drag Comedy Cabaret about "a sinner saved by lace."
A highlight reel of the show featured Blake declaring, "We need some more songs about the Bible that don't sound like they were written by Charles [expletive] Manson!" 
The show also included a bit with a hand puppet Jesus in which the puppet — speaking in what Blake called a "gay voice" — declares, "Yes, I'm gay."
Free

Religious Freedom Updates

Join thousands of others to get the FREEDOM POST newsletter for free, sent twice a week from The Christian Post.