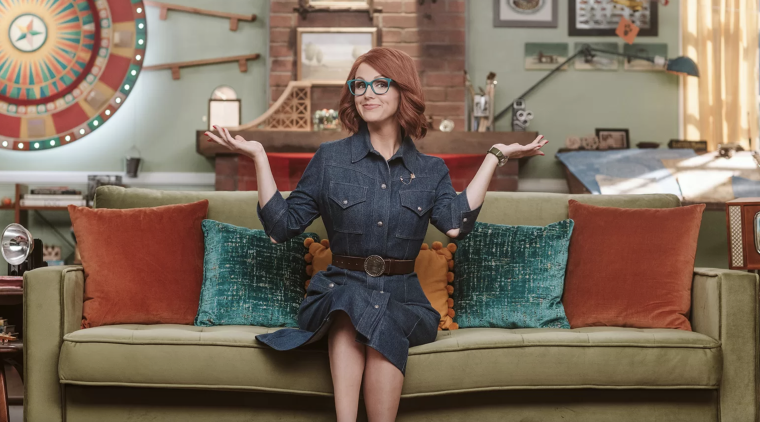 At a time when flashy, hyperstimulating content dominates children's programming, Christian husband-wife duo Katy and Ryan Chance have taken a refreshing step back in time with their new show "A Wonderful Day with Mabel Maclay." 
Described as a hybrid between "Mister Rogers' Neighborhood" and "Mary Poppins," the series airs on the new children's show app Bentkey and follows Mabel, a cheerful redhead, as she helps children create, explore and think critically about the world around them. Along for the ride are her dog, Jasper, animal puppets and a host of friends who help transport kids to a brightly-colored world of exploration and discovery. 
In an interview with The Christian Post, the Chances, who are parents to three young children, said they were concerned by the hole in current children's programming and wanted to be part of the solution. With a background in acting and once running an improv school for kids in Los Angeles, the duo found themselves uniquely prepared for this creative venture.
"We felt really inspired to find a solution to this problem," Katy, who plays Mabel, said. 
"We'll turn off a show in the limited amount of time our kids have seen modern kids' content, and they truly have flushed cheeks, dilated eyes, and crazy behavior; they don't want to turn it off. They've obviously been so hyperstimulated by the content. But when we show them older things, the ways shows used to feel, they don't have that reaction. We thought, let's make a modern take on that stuff; it's so good. That's what we've set out to do."
As a result, "A Wonderful Day with Mabel Maclay" embraces a deliberate pace, devoid of quick cuts and flashy distractions, designed to guide young viewers rather than overwhelm them. 
"Our kids did not grow up with television; we've always had a movie projector," Ryan explained. "So when we were given the opportunity to develop our show, and they said, 'What would be your dream scenario?' It would be this combo of vintage throwback feel that, when you see it, feels like a brand new song that you somehow already know."
At its core, "A Wonderful Day with Mabel Maclay" revolves around appreciating the wonders of everyday life and nurturing creativity in children, encouraging young viewers to embrace their natural curiosity and love of learning. 
"It celebrates the idea that wandering about things is a beautiful thing. It's about a love of learning," Katy said.
The target audience for the series primarily includes preschoolers and younger elementary school children. However, the Chances hope their show can be enjoyed by a wide range of age groups, making it suitable for families with multiple siblings to enjoy together.
The duo said it was an intentional choice that Mabel is carefully designed to speak in a non-babyish, calm manner with a rich vocabulary. She doesn't, for example, pause to explain big words, trusting that young viewers will keep up. 
The series also offers viewers a chance to explore the world; Mabel embarks on field trips, learning new skills and meeting interesting people along the way.
"Mabel learns to throw a football on a giant famous football field with the head coach, she learns to ice skate from gold medalist Scott Hamilton, she learns she visits a fire station because we know our preschool audience wants to see those fire trucks," Katy said. "She goes to a chocolate factory and learns to work those machines."
For parents concerned about screen time, the Chances said they're living examples of strict limitations. They homeschool their children, meticulously curate their content, and, most importantly, ensure it aligns with their values. 
"We are those parents," Katy said, "so we set out to kind of make something they would appreciate."
Bentkey is a project of Daily Wire, though Daily Wire co-founder Jeremy Boreing has stressed the app "isn't about teaching kids politics."
"It's about childhood and wonder and adventure … [and is] dedicated to creating the next generation of timeless stories that transport kids into a world of imagination and joy, a world of content and characters that families will love and parents can trust," he said.
The app, which currently offers 150 episodes of 17 shows, including four Bentkey originals, aims to give parents an alternative to streaming services like Disney+, which Boreing said "pushes all the worst excesses of the woke Left."
For the Chances, faith plays a significant role in their lives and influences their creative choices, though it is not a central theme of the show. They wanted "A Wonderful Day with Mabel Maclay" to be open and accessible to all families, they said, celebrating universal values and virtues. 
"We were inspired by Mr. Rogers, honestly, in this way. He was an ordained minister. He had very strong convictions, and he made a show that was accessible to all families and had a huge impact in that way," Katy said.
Currently, the duo is working on season two of the show — and they're excited about the opportunity to continue inspiring and entertaining young audiences. 

"You don't have to teach [children] to love to learn about things and wonder about things and ask questions," Katy said. "Anybody who works with children or has children knows that. We wanted to preserve that and embrace the joy of wondering and then also the idea that life is wonderful. There are themes of optimism as the episodes unfold and hope and that it's such a joyful thing to wonder."
"A Wonderful Day with Mabel Maclay" is now available.